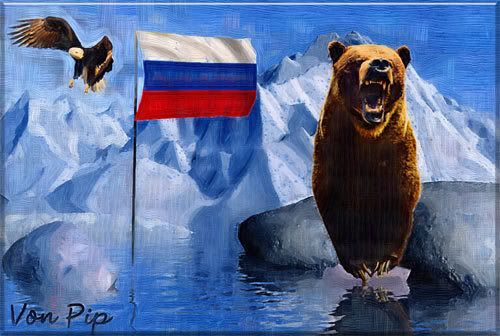 FROM-
CNS NEWS
As UN Deadline Passes for Seabed Claims, Russia Gives Arctic Warning
As a deadline passed for countries to file claims with the United Nations for the right to exploit seabed beyond their coastlines, Russia hinted at the possibility of future conflict over energy reserves the resource-rich Arctic.
Russia's new national security strategy, evidently released to coincide with Wednesday's U.N. deadline, raised the prospect of war resulting from rivalry over oil and gas supplies.
"With the ongoing competition for resources, attempts to use military force to solve emerging problems cannot be excluded – and this might destroy the balance of forces on Russia's and its allies' borders," said the strategy, which evaluates potential security threats for the next decade.
Drawn up the Russia's Security Council, a body that includes Prime Minister Vladimir Putin, the security strategy is the first of its kind published since 2000. President Dmitry Medvedev signed off on it on Tuesday.
Scientists contend that melting ice in the Arctic region and advances in drilling technology could open up access to massive oil and gas reserves.
A recently-released Kremlin document on Arctic policy until 2020 identifies Russia's "Arctic zone" as "a national strategic resource base capable of fulfilling the socio-economic tasks associated with national growth."
According to a translation provided by the American Foreign Policy Council, the document says the Arctic zone "is capable in large part of fulfilling Russia's needs for hydrocarbon resources, aqueous biological resources, and other forms of strategic raw material."
It also refers to the deployment of armed forces in the Arctic zone which are "capable of ensuring security under various military and political circumstances."
Exactly where that Arctic zone stretches, however, remains in dispute.
Russia in December 2001 filed a claim with a U.N. body known as the Commission on the Limits of the Continental Shelf (CLCS) for a huge section of Arctic shelf, including the North Pole, arguing that an underwater ridge was an extension of the Eurasian continent.
The United States, Canada, Denmark and Norway contested the claim, and the CLCS asked Russia to submit further data.
Moscow has declared itself ready to cooperate in the area with other interested nations, but in a provocative move dispatched scientists by mini-submarine in 2007 to plant a titanium Russian flag on the Arctic floor. The symbolic gesture sparked a sharp response from the Canadian government, with the then foreign minister saying it was reminiscent of "14th or 15th century" imperialism.
By Wednesday's deadline for seabed claims, set by the 1982 U.N. Convention on the Law of the Sea (UNCLOS), 69 nations had filed submissions to the CLCS relating to various parts of the globe, including the Arctic. Countries have 10 years to file submissions from the date of their UNCLOS ratification, so some are not bound by this week's cutoff.
The treaty recognizes exclusive economic zones (EEZ) stretching 200 nautical miles (about 230 miles) from a country's coastline. The CLCS is tasked to establish the outer limits of the continental shelf beyond EEZs.
In their applications, states are required to submit data proving that the claimed areas are an extension of their territory. A body of experts in geology, geophysics and hydrography will determine the validity of the claims. Conflicting claims will be settled by international tribunals.
CLCS secretary Hariharan Pakshi Rajan said Wednesday the commission would hear presentations from 29 countries in August, and more next April.
He stressed that the issue was not one of extending national sovereignty, but of extending sovereign rights for the purposes of exploring and exploiting resources.
(Although the U.S. has not ratified UNCLOS – due to Republican opposition in Congress – it has been gathering data since 2001 to back its extended continental shelf claims, including data obtained during Arctic cruises in 2003, 2004, 2007 and 2008, according to the State Department. Secretary of State Hillary Clinton said during her confirmation hearings that ratifying UNCLOS would be a priority.)
After meeting last week with her Russian counterpart, Sergei Lavrov, Clinton said, without elaborating, that the Arctic was one of the areas on the expanding U.S.-Russian agenda "where we think it is in our interest to cooperate and it is in the interest of the world that the United States and Russia do so."

'Multi-polar world'
The security strategy released Wednesday said one of the government's objectives was to make Russia "a world power, whose activity is aimed at maintaining strategic stability and mutually advantageous partnership in the conditions of a multi-polar world," according to the ITAR-Tass news agency.
Apart from energy competition, it also identified rivalry in Central Asia, the expansion of NATO to accommodate aspiring members Georgia and Ukraine, and U.S. proposals for a missile defense shield in central Europe as other areas of potential friction in the coming years.
It says Russia wants a "fully fledged strategic partnership" with the U.S., but also maintains that its security is threatened by the policy of some countries "aimed at achieving military supremacy, primarily in nuclear forces."
Pledging to "reset" relations with Moscow strained over missile defense, NATO enlargement and Russia's war in Georgia last summer, President Obama earlier this year agreed with Medvedev to negotiate a new strategic arms reduction treaty. Obama is due to visit the Russian capital in July.
More...