"We do need an alternative energy, without question, but you don't kill an industry to create another one."
Obama's push toward green has some Texans seeing red
The Obama administration's push to shift the country toward renewable energy and away from fossil fuels puts the Texas economy in the crosshairs.
Hopeful Texas Democrats and entrepreneurs say the change would open opportunities for the state's energy industry, while cutting the greenhouse gas emissions that are heating the planet. But even as Texas installs more wind power than any other state and boosts incentives for solar energy, fossil fuels reign.
"If the construct is to punish carbon manufacturers, then yes, Texas does suffer," said John Hofmeister, former president of Houston-based Shell Oil Co.
The conflict between President Barack Obama's vision and Texas' reality boils down to a mix of politics and industry. While Obama has staked his economic recovery agenda on creating millions of green jobs, Texas depends on carbon dioxide jobs.
Texas Republicans, out of power in Washington but still ruling Austin, oppose much of the Democratic energy agenda. Gov. Rick Perry says the policies would "have a devastating impact on the use of fossil fuels" and put "downward pressure on jobs, on our ability to create wealth."
Sen. Kay Bailey Hutchison, perhaps the most influential Texan in Washington, says the administration's plans are "hurtful" to Texas industry. "It's going to affect Texas, and there is no fairness in it," she says.
More...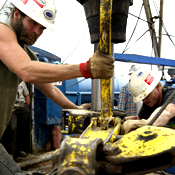 In 2008, the oil and gas industry contributed 16.5 percent of Texas' gross state product and employed 367,967 people, or 3.52 percent of the state's nonfarm jobs, according to the Texas Comptroller of Public Accounts. The renewable industry, according to data from 2007, employed about 18,427 people.

The Democrats' energy agenda got a boost from the backlash against high oil prices last year, when gasoline prices approached $4 per gallon in Texas and other states. They've quickly advanced major pieces of their agenda, although it remains unclear whether the most controversial elements will ever become law.

The House Energy and Commerce Committee approved legislation Thursday to reduce U.S. carbon dioxide emissions through a complex, market-based system known as cap-and-trade. Major polluters would have to reduce emissions, but could offset them with tradable pollution credits. The regulatory burden would fall hard on Texas, which emits more greenhouse gases than any other state.

The state's great hope might be natural gas, another fossil fuel. Economists say limits on carbon dioxide emissions would benefit natural gas, which burns cleaner than coal and oil. Texas, which supplies a quarter of the country's natural gas, could cash in.


Biggest export

More than a century after prospectors discovered the legendary Spindletop well near Beaumont, oil remains Texas' biggest export.

The state produces about 1 million barrels of oil per day, about 20 percent of U.S. production. As one of the few states that welcome refineries, Texas produces one-quarter of the country's gasoline. It exports roughly half of that production to the rest of the country through major pipelines that originate on the Gulf Coast.

But refiners say they got short shrift in recent negotiations over the emissions bill. Refiners will have to buy some pollution credits to meet federal targets starting in 2014. Small Texas oil producers worry that a proposal to eliminate tax incentives for them could put some out of business.

"There is no doubt there are some issues with [lawmakers] saying we want to do all the investment we can, except in hydrocarbons," said Rep. Gene Green, D-Houston, who voted for the House legislation. "But hydrocarbons are going to be with us. We may lower our consumption. But we're still going to need it."

Many experts say the administration is making a mistake by playing renewable energy against oil. The proposal to repeal tax incentives for the oil industry – some of which have existed since the 1920s – would raise $31 billion over 10 years. The administration would use that money for more subsidies for renewable energy and biofuels.

"We do need an alternative energy, without question," said Jeff Johnson, chief executive of Fort Worth's Cano Petroleum, which owns or operates small wells. "But you don't kill an industry to create another one."

If Congress repeals tax incentives for small oil producers, "we're out of business," said Pat O'Neal, owner of O'Neal Drilling Co. in Fort Worth. "We have to. We don't have any choice."

O'Neal's company owns and operates more than 200 wells, mostly small ones in Texas and Oklahoma. Those wells would no longer make money if Congress repeals the tax incentives that allow producers to write off most drilling expenses.

Small wells, known as marginal wells, account for about 21 percent of U.S. production, according to the Independent Petroleum Association of America. About 44 percent of those wells are in Texas, according to the IPAA.

"I believe this administration, as well as the current Congress, I truly believe they think oil companies are evil, that oil is bad," said Cano's Johnson.

He said Cano, which employs 79 people and generated $45 million in revenue last year, would have to cut its drilling budget if taxes rise, including drilling for gas in the North Texas Barnett Shale field.

Already many Barnett Shale companies are cutting back drilling because of depressed natural gas prices. Further cuts would deepen the pain for employees, royalty owners and school district tax coffers.


Green growth

Even as fossil fuels drove the Texas economy during boom years, the state attracted a growing clean energy industry. Texas produces more power from wind than any other state, and plans to build new transmission lines to support even more.

The new industry depends on government incentives that have proved useless during the credit crisis. No one has stepped up to finance new wind farms, and wind-industry growth has been slower than expected.


"There just is not anybody who has assumed that spot right now," said Mark Stiles, senior vice president of Dallas-based Trinity Industries, which makes wind towers.

The recession has been frustrating for Round Rock's TECO-Westinghouse Motor Co., which makes motors for coal-fired power plants and refineries.

But as the popularity of building coal plants waned a few years ago, TECO has moved into the wind business. It invested $6 million to set up a wind turbine assembly line that's largely empty.

The executives had expected to assemble more than 200 turbines a year within five years, boosting total revenue above $1 billion. Instead, they'll be lucky to make 20 turbines this year.

"About the time it appeared to be getting some steam, third quarter last year, everybody closed their wallets and got up from the table," said company director Richard Fesmire.

The company hasn't done much hiring for the new business. Once the wind assembly line produces 50 turbines a year, it will break even financially, and TECO will add about 12 workers.

That growth would allow TECO's suppliers to hire dozens more people, too, said Dean Sarandria, head of new business for the factory. He travels to Washington every other week to stump for aid for American-made windmill suppliers.

Yet most wind manufacturing still happens overseas. So any jobs Texas might lose in the oil and gas business won't necessarily reappear in the wind business.

"The jobs are not permanent jobs," said U.S. Rep. Mike Conaway, R-Midland, whose district has the second-highest number of wind turbines in the country. He's trying to attract manufacturing plants to San Angelo. Until he does, wind jobs in his district tend to be short-lived construction work, because wind farm maintenance doesn't require a lot of manpower.


From coal to wind

Wind stands to gain from the new proposal requiring utilities to get 15 percent of their power from green sources. The economics of wind also improve under carbon dioxide regulations, which shift market share to wind from coal.

About 37 percent of the electricity produced within Texas' electricity grid comes from coal, which emits more carbon dioxide when burned than any other type of electricity fuel. But it's cheap.

Limits on carbon dioxide pollution would create challenges for power companies like Luminant, a unit of Energy Future Holdings that operates nine coal-fired units and is building three more. Luminant's coal plants employ hundreds of workers and pay tens of millions of dollars in annual local taxes.


Tiny Tatum, Texas, where Luminant operates a coal mine and plant, "would probably be a ghost town" without the facility, said the company's community relations manager, Rick Hanning.

Democratic lawmakers proposed shielding coal-dependent utilities from the most immediate costs of cutting emissions. But the legislation still requires today's coal plants to somehow become cleaner or shut down.

The legislation "protects the owners of the coal power plants, but it doesn't necessarily mean they will keep making electricity using coal," said Stephen Brown, former director of energy economics at the Federal Reserve Bank of Dallas and now a fellow at environmental think tank Resources for the Future. "The main fuel that gets hurt by cap-and-trade is coal."

He added: "Natural gas could replace it."


Double-edged sword

The fastest and cheapest way for some utilities to cut emissions is to switch to natural gas. Natural gas emits less carbon dioxide when burned than coal.

But a shift to natural gas is a double-edged sword for Texas. It could boost electricity rates while creating jobs in the natural gas industry.

North Texas natural gas production has boomed during the past few years, since companies learned how to efficiently coax gas from the Barnett Shale. According to a report by economist Ray Perryman, commissioned by the Fort Worth Chamber of Commerce, Barnett Shale production has created 60,314 permanent jobs in exploration, drilling and operations.

"Natural gas could be a big winner, maybe not in the first year, but over time," said Amy Jaffe, associate director of Rice University's energy program. "And that's good for Texas because we have a pot-load of natural gas."

Unlike the governor, Jaffe and others are also optimistic about the future of Texas' clean energy industry.

The percentage of Texans employed by oil and gas has been declining since 1981, while the number of jobs in clean energy has risen steadily, mostly over the past decade. A study done last year for the governor says renewable energy employment will double by 2017, compared with just 11 percent growth for fossil fuel employment.

"We will see more green jobs, but I would not count on those green jobs outnumbering the carbon jobs," Brown said. "For Texas, cap-and-trade is likely to be pretty close to [having] no big effect on employment overall."

Perry and other Republicans say Texas can innovate without interference from Washington. The Texas Senate recently approved $500 million in incentives for solar energy over the next five years. The plan could allow Texas, which has been slow to exploit its solar potential, to rival California in solar generation.

"If you will leave us alone – from the aspect of don't over-regulate us, don't overtax us, let us use our innovation and our incentives – and we can find the answers," he said.

Some experts say it's inevitable that Texas will be a leader in clean energy.

Paul Dickerson, former chief operating officer for the U.S. Department of Energy, said start-up companies don't have the money or expertise to expand on the massive scale that the energy industry requires. That's why clean tech needs Texas Big Oil.

"The economy caused everybody to take a collective breath," said Dickerson, head of Haynes and Boone's new clean tech practice. "During that breathing space, Texas has an opportunity to get in."

Elizabeth Souder reported from Dallas, and Dave Michaels reported from Washington.